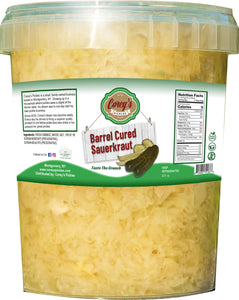 This isn't your typical grocery store sauerkraut. After aging in vinegar with a hint of salt, the fresh white cabbage is ready to be added to your hot dogs, wurst, sandwiches, or to be slow cooked to perfection with a juicy pork roast or kielbasa. A must- have for every family BBQ!
Ingredients
Fresh Cabbage, Water, Salt, Vinegar, 1/10 of 1% Sodium Benzoate, Sodium            Metabisulfite.
*5 gallon containers CAN NOT be shipped 
 see Special Orders page for more details.