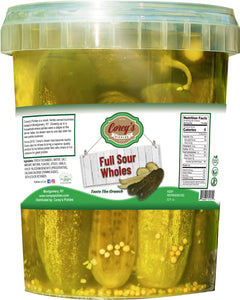 The delicious sour pickle that many of us grew up on in NY. I like to think of these as the grandfather of the Half Sour. As they age for several weeks in the vinegar brine with fresh minced garlic, they really gain more character over time. These are the pickle that are always crunchy on the outside and juicy in the center and aim to please the vinegar lover.
Ingredients
Fresh Cucumbers, Water, Salt, Vinegar, Natural Flavors, Spices, Garlic, 1/10 of 1% Sodium Benzoate, Calcium Chloride, EDTA.

*1 & 5 gallon containers CAN NOT be shipped
 see Special Orders page for more details.