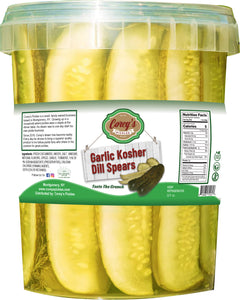 The pickle that is sure to please every pickle lover which I often refer to as the "Godfather of Pickles". After the first crunch your taste buds come alive with the taste of fresh dill and garlic with a dash of turmeric and other pickling spices. Garlic and dill were truly a match made in heaven, making this our best- selling pickle.
Ingredients
Fresh Cucumbers, Water, Salt, Vinegar, Natural Flavors, Spices, Garlic, Turmeric, 1/10 of 1% sodium benzoate, calcium chloride, EDTA.

*1 & 5 gallon containers CAN NOT be shipped
 see Special Orders page for more details.