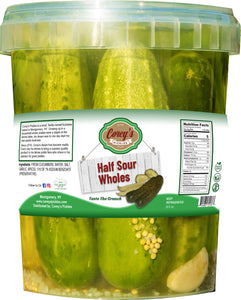 Sometimes referred to as a "New Pickle" the Half Sour is the most impatient of all. After chilling out in the salted brine with fresh garlic, red pepper, and pickling spices for one day they are ready to jump out and be enjoyed. The extremely fresh pickle taste makes them the perfect complement to a sandwich or spicy foods as they cool the taste buds.

Ingredients
Fresh Cucumbers, Water, Salt, Spices, Garlic, 1/10 of 1% Sodium Benzoate.

*1 & 5 gallon containers CAN NOT be shipped 
 see Special Orders page for more details.