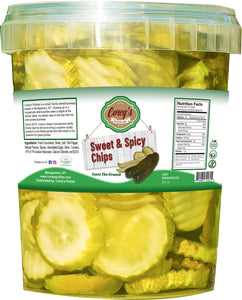 This is the result of the sweet bread & butter and hot & spicy pickles having a baby. After the first bite of these firm, crunchy pickle chips, you will taste the sweetness followed by the perfect kick of chili pepper. These are great for the person who doesn't want anything too sweet or with too much heat. Perfect complement to burgers or make a great reuben sandwich (don't forget to add our fresh kraut!)

Ingredients
Fresh Cucumbers, Water, Salt, Chili Pepper, Natural Flavors, Spices, Granulated Sugar, Garlic, Turmeric, 1/10 of 1% Sodium Benzoate, Calcium Chloride, and EDTA.

*1 & 5 gallon containers CAN NOT be shipped 
 see Special Orders page for more details.