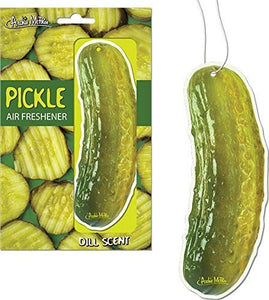 TURN YOUR DAILY COMMUTE INTO A "DILLY" COMMUTE
During your commute, do you feel like a pickle in a jar? This Pickle Air Freshener will add some dill to your daily drive as it dangles deliciously from your mirror. This 5-1/2" (14 cm) tall Pickle Air Freshener smells like dill. Made of heavy card stock. String for hanging included. Illustrated cardboard sleeve.
For correct usage, hang this product so that it can swing freely. Do not put this product in contact with plastic, wood, cloth or any other easily stained material. Do not rest this product on dashboard or air vents.